2015 Lakritz Family Scholarship Recipients: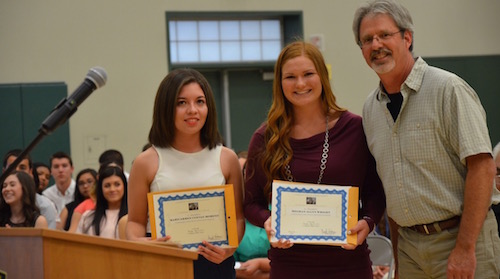 2015 Lakritz Family Scholoarship winners
Maricarmen Cuevas-Moreno graduated from Hanford High School in 2015. As a first generation American of Mexican immigrants, Maricarmen knows all too well the difficulty that immigrants have in trying to succeed in their new country. She says "the goal of my career choice is to keep families together" adding that there are "53 million immigrants living within the United States and the right thing to do is help them obtain US citizenship" so they can "reach the American Goal."

Maricarmen has a gentle soul and realizes that life is really about helping others. In her volunteer work with eldery residents at the Hacienda she describes the fact that they did not donate money, "we just simply took the time to be with them" by taking them out for a walk. She adds that "community service isn't just about donating something physical or materialistic. Community service is spending your time to give joy to somebody."

Maricarmen plans to earn a bachelors degree in business administration at Fresno State and go on to law school at UC Davis.

Meghan Allyn Wright graduated from Hanford High School in 2015. Meghan's resume is impressive. She held an ASB office all four years in high school including student body vice president her senior year. Meghan played three years on the varsity swim and water polo teams. She was team captain for two years on each team and earned a First Team All Valley selection for the Water Polo team in 2014. Meghan is a member of the academic top 10 of her graduating class.

Meghan believes strongly in the idea of community service and has worked hard to make a difference in her community from a very young age. She organized fundraisers the American Cancer Society and the Leukemia and Lymphoma Societies. She also volunteered for the Read Across Ameria progam at local elementary schools and served as a volunteer coach for the youth Splashball program of the Kings Water Polo club.

Meghan attends UCLA.
2012 Lakritz Family Scholarship Recipients:
Rachel Anne Pagador graduated from Hanford West High School in 2012. Born in the US, Rachel grew up in an impoverished small town in the Philippines. Her experience early in life took her to many places throughout the world. She learned that there is a wide gap between the quality of medical care in third world countries as compared to America. This inspired her to want to become a doctor.

Rachel learned from her immersion in a diverse group of cultures that "people of all nationalities strive for the same basic human necessities." She adds "I believe that it is everyone's right to have access to health care services. In remembering my encounters, I am encouraged to apply my knowledge and put my skills to greater use in the hopes of improving the lives of others."

Rachel is attending UC Berkeley.


Rachel Pagador shows off her college acceptance letters on Facebook.

Araseli Pena Villa graduated from Hanford High School in 2012. Araseli overcame many personal family obstacles to rise into the top 20 percent of her class. Helping her single parent raise her siblings, Araseli also spent many hours each week volunteering to tutor and teach other students at the Kings Community Action Organization. Araseli loves math and was proud to be able to support her younger siblings with their homework.

"Araseli has made a positive impact on the lives of many and is not defined by a title, but by her ethics and values that she lives by each day" said one of her teachers. "She is respected by all who know her."

Araseli is attending Fresno State University and working toward being a secondary school math teacher.
2011 Lakritz Family Scholarship Recipients:
Mirabel Rios graduated from Hanford High School in 2011. She was an active member of Math Club, AVID, FFA, GSA and Relay For Life as well as other organizations outside of school. High School was difficult for her at first but she finished up strong getting good grades in her final years at school.

"When compared with other students," said one of her teachers, Mirabel is "not cut from the same cloth." She's mature beyond her years and looks at things from angles most people don't see. Dedicated, ambitious, and honest are all words her teachers use to describe this bright and positive student. Mirabel is attending the University of California at Merced this Fall. She is studying Environmental Engineering.

"By awarding me the Lakritz Family Scholarship," Rios says, "you have lightened my financial burden which allows me to focus more on the most important aspect of school -- learning. Your generosity has inspired me beyond imagination to continue to help others and give back to the community."

Ricardo Munoz graduated from Hanford West in 2011. He was Senior Class President, Editor of the school yearbook, National Honor Society member for three years, and an athlete and dancer. As an artist, Ricky has been selected for regional art shows. His vision and imagination caused one teacher to reflect that "every once in a while I have a student that has an apparent soul of an artist, looking at everything with an eye to the hidden beauty or possible meaning. Rick is that student."

"This passion will drive me through problems and triumphs," wrote Ricky. "Art in all forms is a part of humanity in general."
2010 Lakritz Family Scholarship Recipients:
Christopher Elick was born to a single mother and is the first grandson of Mexican immigrants. He knows the importance of hard work and determination in life. He has a great appreciation for diversity across ethnic and socioeconomic lines. He will be the first generation in his family to reach the goal of a college education. Christopher has a passion for science, music, and history and he hopes to use his skills in these areas to make a difference in improving the earth. "I believe that in order to avoid problems in the future," he says, "you must learn from your past."

Christopher graduated from Hanford High School with a 3.9 GPA and is a member of the National Society of High School Scholars. His band was featured on Skratch Magazine's Volume 50 Sampler CD.

"I believe that if you treat no one as an outsider, you will never be cast out." Christopher concluded in his personal essay. "Reflecting on my life's experiences, I know that even though we are all different, we are all human and deserve appreciation and respect." His strong ambition will lead him to help make a better future for our world.

Samantha Haney plans to pursue a career in law with a goal of becoming a District Attorney and eventually a Justice of the Supreme Court. She is an accomplished athlete and member of student government. She volunteers her time throughout the community in a variety of service organizations. Nothing drives her more then the hope that one day she can "alter the fabric of life" in our country through her work to improve our justice system.

Samantha graduated from Hanford High School with a 4.38 GPA and is a life member of California Scholarship Federation. She was a four year member of the Girls Varsity Water Polo and Swimming teams and president of the Kings County YMCA Youth and Government program. Samantha is determined to paint her own impression on our world through her desire to learn about and help make the justice system more just than it is today.

Andreana Rameriz has set lofty goals for her life. She will be the first person in her family to attend college. She hopes to one day become a psychiatrist. Helping others is a dream she's had for a very long time. She plans to do this by majoring in Psychology with the goal of one day becoming a Psychiatrist. She knows that this will require her to complete medical school. "I want to do this," she says in her personal essay, "because if I helped someone with their problems, it makes me feel much better about myself. Someone who gets satisfaction from helping others should become involved in that type of career field."

Andi was a four year member of the Future Farmers of America at Hanford High School and graduated with a 3.8 GPA. She is a life member of the California Scholarship Federation. She was a two year member of the Hanford High School Girls Varsity Volleyball team and spent three years on the Valley Heat Travel team from Lemoore. Andi received the Scholar Athlete award for Girls Volleyball in 2008 and 2009.

2009 Lakritz Family Scholarship Recipients:

Lilia Brewster at UC Davis gardens.

Update (May 2011): Lilia is at the end of her second year at UC Davis, enjoying school, studying, and she now works at the Vet School Library.

Lilia Brewster, knows that it is easy to make a difference in the world. She and her family learned that the hard way when they lost their home to a fire. Everything they had went up in flames. But the Hanford community responded with compassion and caring and before they knew what hit them they had a home again. She writes that "The people reached out and blessed my family with hope. They instilled a hope brighter than I could ever imagine."

After that incident Lilia reached out to others through her church and through clubs she joined at school to both learn more about other cultures and people and to make a difference for those in need. "I desire to continue reaching out to others," she writes "because all it takes is just ONE person to make a difference."

Lilia is a musician and performed with the Hanford High School Marching Band. Lilia is in the top twenty of her graduating class and she is attending the University of California at Davis and hopes to become a veterinarian. She dreams of one day helping to build animal shelters in Mexico and to start a food bank for families in need.


Edith Saldivar, is the daughter of farm workers. Education is a high priority for Edith and her family. Edith is very proud of her academic achievements at Hanford High School. There are many aspects of Edith's educational career at Hanford High School that stood out for us in selecting her for this award. We'll just give you one specific example.

During her sophomore year she struggled with some of her classes and did well in others. But Modern World History was a particularly difficult class for Edith and she didn't do well. That didn't deter Edith as she did well in her US History class the next year. Then she took the Modern World History course over again during her Summer vacation last year earning an A for the class.

Edith is a member of the California Scholarship Federation after reaching a GPA of 3.0 last Spring. She's attended community college classes and is attending the California State University at Fresno. She hopes to be a nurse because she likes working with people and helping others.